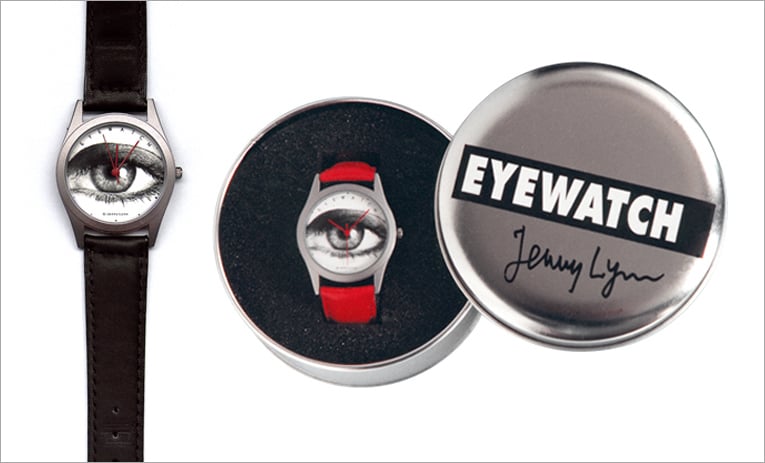 Jenny Lynn's signature wristwatch, featuring a black and white photograph of an eye on its dial. Each watch is hand-engraved on the case back with the artist's signature, as well as various quips about time, such as:
Take your Time, Time only knows, This is the Time, and Keep Ticking!
Titanium plated case, quartz works, red hands,
and black or red leather strap.
Designed and produced by Jenny Lynn in 1986, the Eyewatch has been sold at Friends of Photography, photo-eye, The Walker Art Center, The Whitney Museum shop, the Philadelphia Museum of Art shop, and other museum shops throughout the US.
Inevitably...the spiral comes down to editions as small as one...Jenny Lynn, photographic artist... created the EYEWATCH. Its face is one large eye, which follows its wearer, Cyclopean, wherever he or she goes. Uncharacteristically, technology functions here as a handmaiden to poetry, permitting the extension of personal whimsey and expression.
Joel Katz, Information Designer, Katz Design. From The Many Faces of Time, The Philadelphia Inquirer Magazine, 1994